Thank you for your message. It has been sent.
Touching Bass with Athletic Progression & Demae
The Blues Kitchen, Manchester.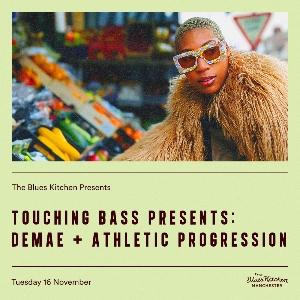 Touching Bass presents: Athletic Progression & Demae
South London's number one community-based label, concert series and NTS Radio show heads North for the first time with two ones-to-watch in music circles.
Hailing from Denmark, Athletic Progression is an instrumental trio rooted in Hip Hop and Jazz. While the group has been compared to Yussef Kamaal and their cohorts, their rise on the scene in Denmark has been happening simultaneously with the rise of the UK Jazz scene. Their style is deeply rooted in J Dilla-esque swing with heavy, meditative vibes that feel instantly recognizable and insanely catchy.
Similar associations can be made with London-born singer, song-writer and producer Demae, although applied in different ways. Her soulful, summery vocals lay on top of bouncy, hip hop beats and have soundtracked our work-from-home year - we can't wait to hear them live.